Sailing Instruction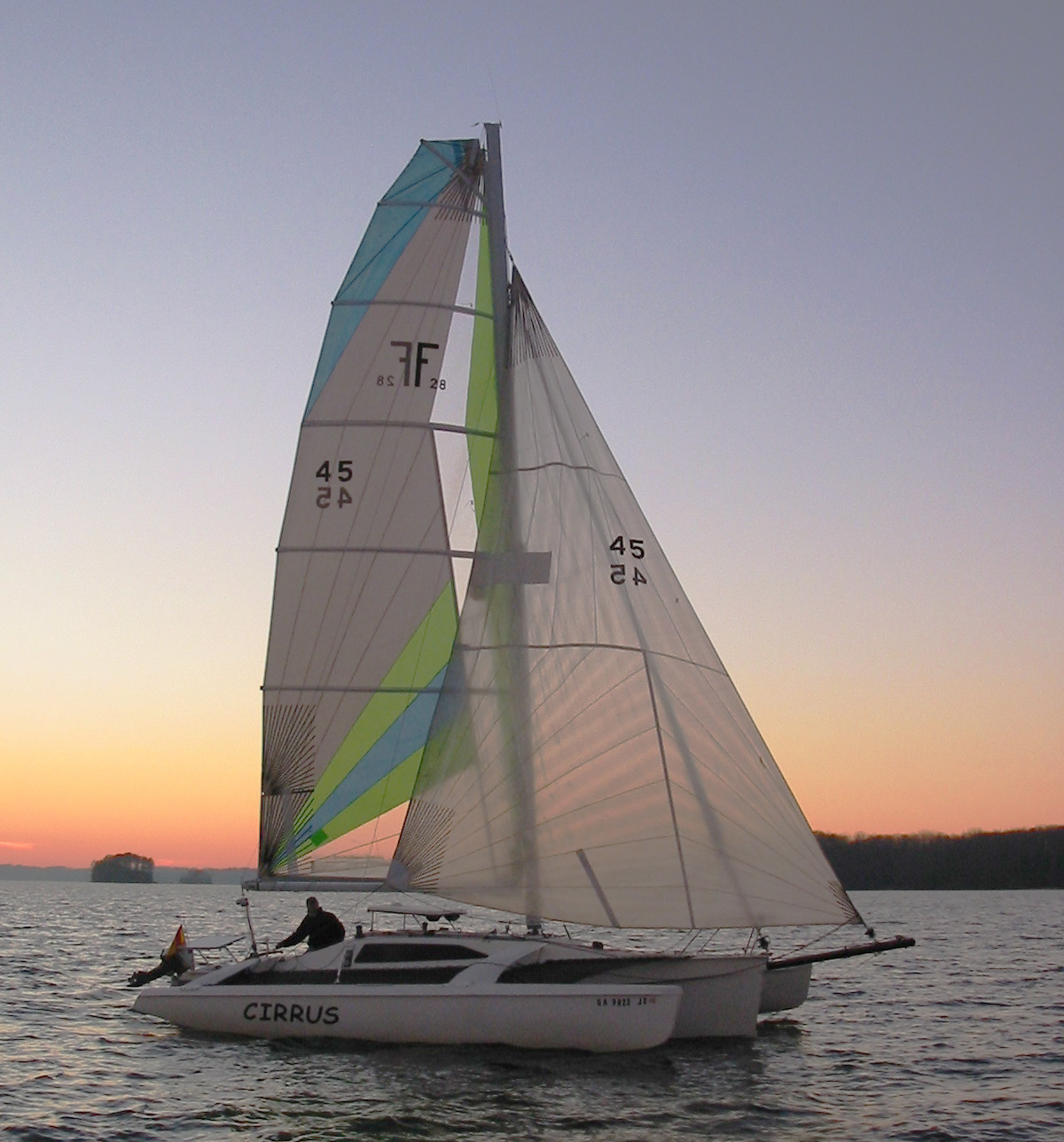 Learn Multihull Sailing Aboard a World Class Racing Trimaran?
Whether you're a total beginner that's never been on a sailboat, or a seasoned sailor that wants to learn about the exciting world of multihulls, we have a program that is just for you.
Our Instructor
All lessons are led by Captain Dan Feldman, who is a Coast Guard licensed captain and a U.S. Sailing Certified Instructor. Captain Dan has been sailing and racing most of his life and has extensive experience teach in other subjects including Nordic Skiing and Argentine Tango. He is patient, intuitive, and an excellent communicator. Most of all, he loves sharing his experience and skills others. You will learn a lot about sailing and have a great time in your lesson!
Our Boat – Cirrus
Cirrus is a former national champion, 28 ft Corsair racing trimaran. A true racing craft, she is very fast, but also safe and stable. Multihulls are able to take advantage of their speed to "generate their own wind." One of the first things you will learn about is this "apparent wind sailing."
Our Programs
We have a range of sailing instruction programs that will suit every student, whether you just want to sample the sport, or are interested in learning to race. Look through our curriculum below, and you'll find the program that's best for you.
Beginner Lesson – 3 Hours – $150
This lesson covers the basics of sailing theory and practice. You will learn safety afloat, basic parts of the boat, steering, the points of sail, how to rig and trim your sails, and the difference between tacking and jibing.
This makes a great gift for your favorite armchair mariner!
Beginner Course – 3 consecutive 3 hour lessons $400
This three lesson course will take you through all the basics in more depth. We cover: sailing theory, safety, rules, rigging, including the spinnaker, points of sail, upwind sailing, downwind sailing, mooring, docking and single-handing. Recommended for those that want a good foundation in sailing.
Intermediate Lesson – 3 Hours – $150
If you've done some sailing and understand the principles and basics but want a hands-on refresher with a taste of what it's like to be at the helm of a fast trimaran, then is is for you!
Racing Lessons – 3 Hours – $150
If you want to learn to race a sailboat like the pros, we offer one-on-one instruction that will take you to the next level. Learn racing rules, tactics, reading the wind, starting strategies, mark roundings, use of instruments and racing sail trim. These lessons are geared to refine your every sailing skill, and are custom designed for your specific needs.
Half day, private. $300
All lessons are private. We can teach up to a group of 4 people at a time. For each additional person add $100/lesson
Reserve Your Cruise
To reserve your Hudson River cruise, call 845-667-1394 or fill in the reservation form