Farm to Galley
Organic and Wild Foraged Delicacies
The delicious food served aboard Cirrus features fruits and vegetable from our own organic farm as well as sustainably harvested wild edibles from the Hudson Valley. All cruises include complementary beverages and hors d'ouvres.
Our Specialties Include: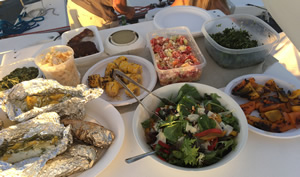 Home grown shiitake mushroom pâté, the ever favorite organic heirloom sun dried tomato and garlic tapenade, organic blueberry muffins and wild nettle and crème fraiche dip.
Mediterranean Barbecue
For your most special event or just an unforgettable night we offer a delectable Mediterranean feast of grilled marinated lamb, tzadziki, baba ganouj, Greek salad and pita. On a 4 hour cruise add $35/person. 4 people minimum.
East West Wine Co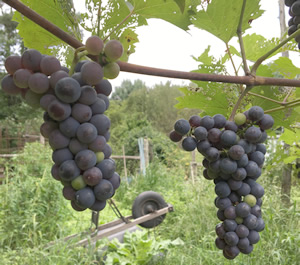 We are very excited to soon be featuring a compelling wine list from our own boutique winery. Featuring unique reds and whites from New York, California and Chilean grapes, our wines have been described as "complex, earthy and delicious!" Stay tuned for details!