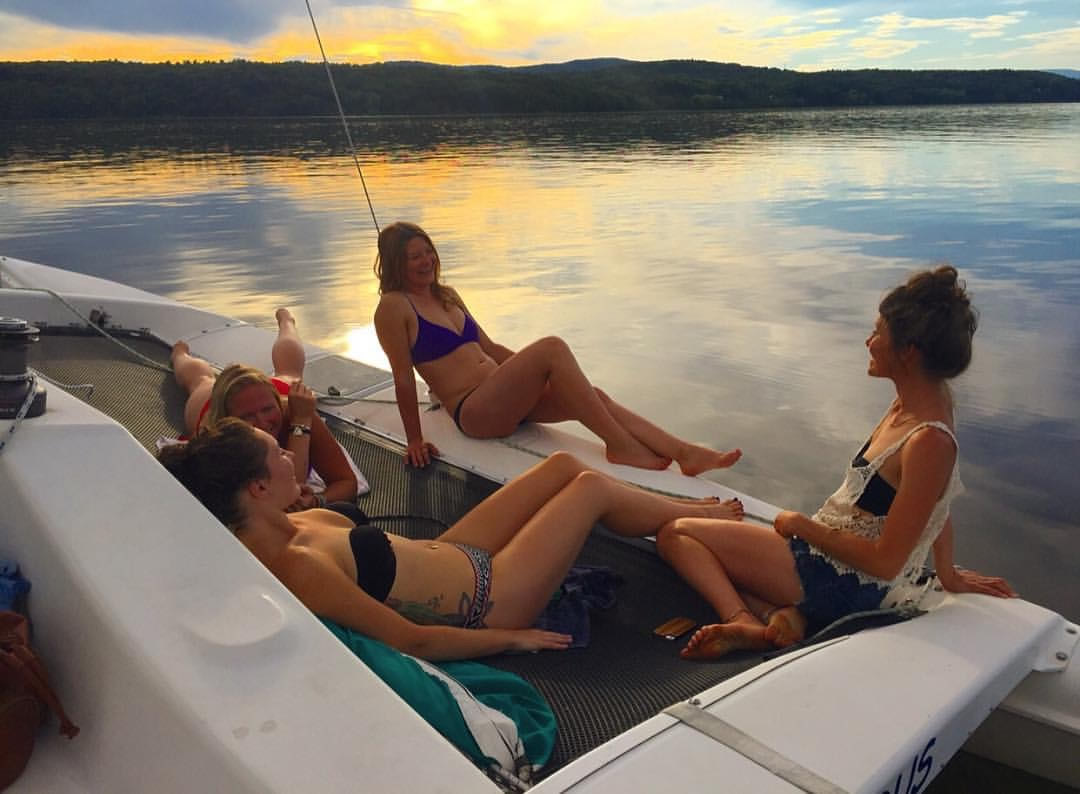 Hudson Sailing Charters
Sailing charters with Hudson Sailing offer the very best Hudson River sightseeing and sailing adventure you can find. While enjoying farm to galley snacks and refreshing beverages you will effortlessly skim the water on the safest most exhilarating sailboat on the Hudson River. You can stop for a quick refreshing dip or just relax on the nets and gaze at abundant wildlife and spectacular scenery. Leave the noise and fluff behind and come sail with us for a trip you will never forget.
All charters are private and include complimentary beverages and farm to galley hors d'oeuvres. 50% deposit required. All trips are weather dependent. Six passengers maximum.
Three Hour Charter
Our most popular excursion takes you on a voyage where you can see historic lighthouses, majestic mansions and of course, the legendary beauty of the Catskills mountains from the river. Keep a sharp lookout for eagles and other wildlife while we guide you along the sailing trip of your dreams.
$500 – includes light hors d'oeuvres and beverages. Departures morning, afternoon or evening. Gratuity is customary
Four Hour Barbecue and Swim Excursion
Perfect for birthdays and special occasions. On this extended voyage we bring you to a sheltered cove where we drop anchor and cook up a delicious lunch or dinner while you cool of in the clean, refreshing water. Departures morning, afternoon and evening.
$600 plus $30/person – includes beverages, sirloin or veggie burgers and sides. Yum!
Gratuity is customary.
Mediterranean barbecue with grilled marinated leg of lamb, tzadziki, baba ganouj, Greek salad and pita – $60/person. Oh yes!
Sunset Sail
Hudson River sunsets are quite simply, unrivaled. Painters like Thomas Cole of the Hudson River School immortalized these vistas and you will see why when you join us for evening of pure bliss. This 2 hour trip is the perfect start for your date night or family celebration. We'll have you back in time for your dinner reservation or let us know and we'll arrange a picnic for you to enjoy aboard!
$400 –  includes light hors d'oeuvres and beverages. Gratuity is customary.
What to Bring
Hat, sunscreen, extra layer, rain jacket if showers are forecast. Sandals, sneakers or boat shoes, no heels or black soles.
Swimsuits and or a change of clothes are recommended on windy days as its likely you will get wet!
Reserve Your Cruise
To reserve your Hudson River cruise, call
845-667-1394
or fill in the reservation form